Mary N. Chaney - Chairwoman
Mary N. Chaney, Esq., CISSP, CIPP/US has over 30 years of progressive experience within the fields of Information Security, Privacy and Risk Management. She graduated from Xavier University in Cincinnati, Ohio with a B.S.B.A in Information Systems and became a licensed attorney in the State of Texas in 1999.
Ms. Chaney began her career journey by serving as a Special Agent for the Federal Bureau of Investigation (FBI) in Los Angeles. While with the FBI she investigated all types of cyber related criminal activities, including denial of service attacks, computer intrusions, internet piracy, intellectual property theft, and copyright infringement. As a collateral duty she also served as the Associate Chief Information Security Officer and Information Systems Security Officer, where she was responsible for physical, building, information systems, and personnel security. 
Mary's global experience includes executive level information security and privacy roles with GE Capital, Johnson & Johnson, Comcast Corporation and Esperion Therapeutics.
Mary is the Chairwoman, CEO and President MiC and the Founder and CEO, of its subsidiary, MiC Talent Solutions, Inc. MiC focuses on support, leadership and career development for minorities, women, and non-binary talent in cybersecurity. MiC Talent Solutions, Inc. provides cybersecurity recruiting, direct hire, augmented staff, and professional service contracting solutions for organizations searching for minority, women, and non-binary cybersecurity talent. Both organizations are working together to design an ecosystem for the advancement of underrepresented cybersecurity talent.
 Vernecia Ruffin - Treasurer
Vernecia Ruffin is the Director of Cyber Technology Assurance at MassMutual with 13+ years of experience in the field of Information Security. In this role, Vernecia oversees two programs, Vulnerability Management and Configuration Assurance and Software Security. Prior to joining MassMutual, Vernecia worked at Entergy as a Senior Security Regulations Analyst, responsible for the governance, risk, and compliance of Entergy's Critical Infrastructure Protection (CIP) cyber assets.
Vernecia has worked in various industries including defense contracting, financial services, retail services, and electric utility. Her experiences consist of a diverse background in Information Security, with roles as a Senior Cyber Threat Intelligence Analyst, Senior Cyber Risk Consultant, Senior Vulnerability Management Analyst, and more.  
She holds a Master of Science degree in Systems Engineering from The George Washington University and a Bachelor of Science degree in Computer Engineering from North Carolina Agricultural and Technical State University. She holds certifications as a Certified Information Security Manager (CISM) and Certified Ethical Hacker (CEH).
Although Vernecia enjoys her career, she loves spending time with her husband, close family, and friends, traveling the world, and roller skating. 
Melanie Ensign - Secretary 
Melanie Ensign is the Founder & CEO of Discernible. After managing security and privacy communications for some of the world's most notable brands, including Facebook, Uber, and AT&T, Melanie founded Discernible to help even more organizations adopt effective communications strategies to improve risk-related outcomes. She counsels executives and technical teams alike to cut through internal politics, dysfunctional inertia, and meaningless metrics.
Additionally, Melanie is the press department lead for DEF CON, the world's largest hacker con.
She is also an accomplished scuba diver and brings many lessons learned preparing for and navigating unexpected, high-risk underwater incidents to her work. 
Anthony Hannon - Board Member
Anthony Hannon has nearly ten years of professional experience in Information Security. He began his career with Raytheon Technologies where he interned with the cyber threat intelligence team identifying and assessing the attack surface of the company and their partners, as well as providing briefings on relevant threat actors to senior leadership. At the conclusion of the internship, Anthony joined Raytheon's Security Operations Center (SOC) as a fulltime employee. Soon after, Anthony became the SOC Team Lead where he managed the day-to-day tasks and investigations for Raytheon's corporate network. 
Anthony joined MassMutual Life Insurance Company in 2016 as the cyber incident response team lead and has held several roles within MassMutual's Enterprise Cyber Security organization, including Security Intelligence Director where he set the strategic direction for the security intelligence, ethical hack, digital forensics, and eDiscovery teams, Business Information Security Officer assisting the Data Science organization, and Head of Software Security where his team enabled software developers to create secure code, reducing the attack surface for MassMutual.
Anthony is currently one of six employees representing MassMutual in the CEO Action for Racial Equity Fellowship, a working group of over 100 companies dedicated to advancing racial equity through public policy and corporate partnerships, with the goal of improving well-being in the Black and African American community and impacting society at large.
Anthony graduated from Salve Regina University with a BA in Administration of Justice and a MS in Administration of Justice with a focus on Cyber Security. In addition, Anthony holds several Information Security certifications, including the CISSP and CISM.
Anthony lives in Massachusetts with his wife, Kayleigh, and two kids, Hazel, and Hunter.
Veda T. Woods - Board Member
An advocate, social activist, and C-Suite visionary towards employing diverse and inclusive, globally holistic business strategies, Veda Woods has approximately over 25 years of combined public, private sector and FinTech expertise within cybersecurity, child protection, data governance, cyber risk management, and threat/intelligence oversight.
Leveraging innovative technologies as an enabler towards conceiving and executing cybersecurity strategies that streamline disparate environments, Ms. Woods has been successful with harmonizing operations and creating synergies for organizations within highly regulated industries. She has had the privilege to support various industries in achieving success developing secure, transformative solutions within the public, private and NGO sector based on integrity, respect, and trust.
Understanding that the human factor is profoundly rooted within the cybersecurity paradigm as a whole. Ms. Woods deep expertise within cybersecurity, research, intelligence, and analysis, has also been instrumental in her advocacy, research, and practical approaches towards contributing to meaningful global solutions for social good. Through the efforts of Protect Us Kids Foundation, a 501c3, U.S. based non-profit that Ms. Woods founded in 2008, the Foundation aims to dramatically reverse the rising rate of Online Child Sexual Exploitation (OCSE) within rural and marginalized global communities.
Ms. Woods strategic leadership focuses on ensuring Board accountability, as well as strategic cybersecurity governance, in support of decision-making processes that protect and respect human rights by design. She strives to employ systematic and holistic risk oversight and framework strategies within cybersecurity, data governance, privacy, and risk management; focused on securing critical infrastructures, to include, but not limited to those sectors that are accountable for healthcare, financial, energy, water, law enforcement, defense and/or intelligence information.
Within the private sector, Ms. Woods has held roles as the Global Chief Information Security Officer for a FinTech company, as well as having served as the accountable Head of the Global 2nd Line of Defense Risk Governance Oversight/Threat and Vulnerability Management and Frameworks program at Morgan Stanley, to include all global entities and subsidiaries. She formally provides Firm wide oversight in support of ensuring a transparent, consistent, and comprehensive global strategy for managing operational risk across the firm. Ms. Woods also participates on national and international forums and working groups, seeking best practices in cyber research, data governance, risk management and policy to support strategic initiatives.
From 2009 until 2015, Ms. Woods served on a U.S. political appointment, under the Obama Administration, as the Chief Information Security Officer and Deputy CIO for the former Recovery Accountability and Transparency Board ("Board") and was accountable for protecting and securing the data related to the $840 billion stimulus bill. Comprised of approximately thirteen Inspector Generals across government, the Board was a federal agency created after the aftermath of Hurricane Katrina, with an accountability mission to help identify fraud, waste and abuse of data related to the American Reinvestment and Recovery Act of 2009, as well as the spending oversight of Hurricane Sandy funds. Prior to that, Ms. Woods professional portfolio included an illustrious career supporting national security cyber initiatives within defense, as well as federal consulting.
Ms. Woods has received numerous awards, as well as written in various national and international publications, for her significant contribution towards secure technology innovation and maintains a passionate commitment to continuously support women and minorities within Science, Technology, Engineering, Arts and Mathematics (STEM/STEAM). Because of her personal testimony of overcoming adversity, from humble beginnings growing up in one of the most volatile inner cities of Chicago, and navigating non-inclusive environments throughout her career, Ms. Woods' purpose is to pave it forward by doing what she deeply understands as being her personal life's work. It is her desire to provide a positive social impact in support of humanitarian organizations, by applying her expertise towards protecting those youth, without a voice, from the global violence of cyberspace.

Ossie Munroe - Board Member
Ossie Munroe has over 30 years of experience in the fields of Information Security and Information Technology. Prior to beginning his career journey, he proudly served as an active duty member of the United States Air Force, achieving the rank of Sergeant.  
Ossie's journey in technology began as a Network Engineering lead for Wide Area Networks covering Bloomberg's corporate offices and broadcast infrastructure in North America and Asia.  Ossie then transitioned into a Program Manager role for Bloomberg's Chief Technology Office, where he led operations and delivered a wide variety of initiatives to improve the security, reliability, performance, and efficiency of all of Bloomberg's systems. 

Ossie is currently the global leader of Bloomberg's Information Security Officer team. Based in New York, Ossie oversees engagements across the organization, protecting the information security of Bloomberg's various subsidiaries, answering regulatory obligations, and providing governance and oversight. Ossie and his team are instrumental in maintaining Bloomberg's vision, strategy, and program of ensuring information assets, technologies and customers are adequately protected, wherever they may be. Ossie and his team also partners with all aspects of Bloomberg, including Legal, Engineering, Product, Technology, and Compliance to deliver their mission around the world.
In his role, Ossie helps advance the company's diversity and inclusion efforts by leading diversity recruitment initiatives for the Chief Information Security Office and the Chief Risk Office. Through his efforts, he seeks partnering opportunities with external organizations to open career pipelines for underrepresented groups. Through American Corporate Partners, Ossie also mentors active duty military personnel preparing to make the transition back to civilian life.
Ossie also serves as co-chair of a Cyber Coordination Group for the Financial Conduct Authority in the United Kingdom.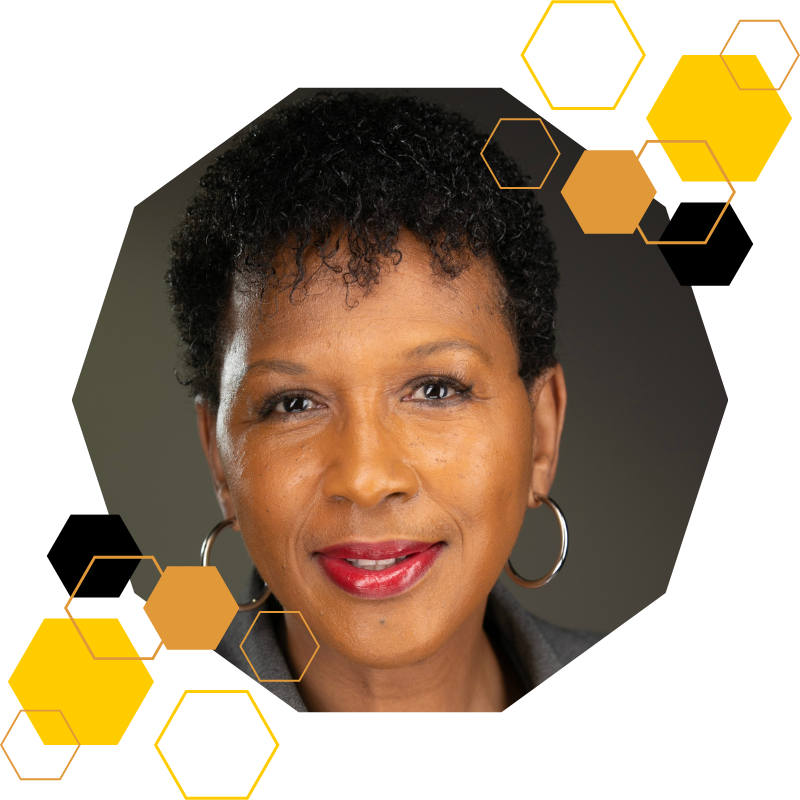 Renee Forney - Board Member
Renee Forney is a C-suite Executive, strategist and trusted advisor to and Fortune 500 business leaders and senior government officials known for turning critical inflection points into opportunities. As public and private sector environments fluctuate, she appreciates the range of enterprise risk management issues requiring board level attention. She prioritizes a robust approach to digital transformation, multi-cloud strategy, AI, Cybersecurity, and strategic IT investment to achieve corporate goals. Mrs. Forney's ability to address complexity, identify core issues and determine the actions able to yield the most value within the elements of time, space, money, and reputation are hallmarks of her career. 
Currently, Mrs. Forney is Meta's Deputy Chief Information Security Officer for Governance, Risk & Compliance where she is building a FinTech integrated security program that aligns to current regulatory compliance while helping to shape the future of a digitized financial market. Previously, she served as Microsoft's Senior Director of Cognitive AI Services leading a product AI Engineering team's Global Medical Certification effort.  While also at Microsoft she led Azure's Hardware Systems & Infrastructure Security driving the progression of the global security risk and ESG baseline for its Data Centers. She established a global governance and risk program to protect the Microsoft Cloud Infrastructure and global supply chain upon which the Microsoft Intelligent Cloud business operates. Earlier, Ms. Forney's ability to engage a wide range of technical and business stakeholders proved essential to her success as Capital One's Senior Director of Cyber Assurance leading Governance and Risk, Supply Chain Risk Management, Customer Authentication, Payment Card Industry Standard (PCI), and Mergers and Acquisition Cyber Due Diligence. Her comprehensive crisis management response to a 3rd party supplier cyber incident was rigorous. She drove implementation of critical risk mitigation and resolution actions to protect Capital One's infrastructure. Provided critical information to the Board informing real time risk posture and investment priorities.
She had a distinguished federal service career; Mrs. Forney was the DOE's Deputy CIO for Cyber Security and Enterprise Operations and served as Executive Director for the Cyber Skills Management Support Initiative at the DHS, during which she held a high-level security clearance. At DHS, she oversaw budgets of up to $645M and reduced redundancy in human capital system expenditures by gaining economies of scale of existing contracts across the enterprise. As well, she was the cyber workforce subject matter expert to senior leadership at the Office of Personnel Management in developing of the Federal Cyber Workforce Strategy, and briefed members of Congress and staff on critical infrastructure and digital transformation issues. Her career began with increasingly more responsible roles in technology administration at the Navy Mutual Aid Association, SAIC, Telos, and Unisys. 
In recognition of her professional accomplishments, she was named to Agenda's Top Diversity 100 Board Ready Candidates, honored with the SC Magazine's Women of Influence Award, and ACT-IAC's Igniting Innovation Award. She has been a featured guest speaker at events including Black Hat, RSA, and Black Enterprise TechConneXt Tech Summit. She also served on the (ISC)2 North American Advisory Council. 
Mrs. Forney received an Honorary Doctorate Degree of Science and Technology from Champlain College, earned a M.S. in Engineering Management from George Washington University and a B.S. in Computer Information Systems from DeVry University. She holds a certification in Mergers and Acquisitions from Columbia School of Business. She and her husband have two adult children and live in greater Washington, DC.
 Jim Sfekas - Board Member
Jim Sfekas is an Assistant General Counsel responsible for security, compliance, and privacy engineering at Microsoft. He leads a team that provides legal guidance to the engineering teams building Microsoft 365 security, compliance, and management services, as well as the Microsoft Defender security research team. He also advises the Microsoft 365 security team and their CISO on securing our services and responding to threats, including incident response. Jim came to cybersecurity after many years as a patent lawyer at Microsoft and Perkins Coie. He received his J.D. from the University of Washington School of Law and has a B.S. in Electrical Engineering from the University of Maryland. Before becoming a lawyer, Jim worked as a software engineer for six years.